DOORS OPEN SPRING 2024.
With new options to support you in your life and leadership!
Join a community of women ready to invest grow and transform with you. 
Join a community of leaders who are committed to unleashing their potential and unlocking the tribe-building formula, Believe + Belong = Be Different so they can - Lead with Confidence, Lead with People, and Lead with results. 
JOIN THE WAITLIST
A question for you...
Do you wish you had access to leadership experts and tribe who could help you accelerate your growth?
Let me know if this sounds familiar...:
✓ As your list of direct reports grows, some days you feel overwhelmed by the never-ending issues of work and home
✓ You know you belong in the seat, but you want to have more confidence in how you show up and what you bring to the table
✓ You know that your well-being is important, but you can't find a way to weave it into your life
✓ You understand the importance of strategy, but your execution is not quite where you'd like it to be
✓ You need support... but it's been difficult to find the time to build your professional tribe
If you've been searching for like-minded, supportive, thriving community, you're not alone.
If that sounds about right,  keep reading...
You know  things need to change
You're working hard, but you believe you could be more effective...
...and you're trying to plan ahead for your team, but find yourself reacting.
You need support, but struggle to  connect with a professional tribe.
JOIN THE WAITLIST
Imagine how it would feel too...
✓ Have a tribe of talented professional women to support your career and leadership journey. 
✓ Have solid tools and strategies to support your aspirations and increase your results. 
✓ Have access to experts who understand your story and are ready to support you.
A program and community for women who want to unleash their potential and unlock the formula to lead with confidence, lead with people and lead with results.
YES, I NEED THIS
HERE'S WHAT'S INSIDE:
You're going to 

love & a

ccelerate
with these...
MASTERCLASSES & COACHING
Program content is delivered in a variety of formats which include video microcourse masterclasses. In the advanced part of the program (the circle), you will also gain access to live sessions and small-group coaching.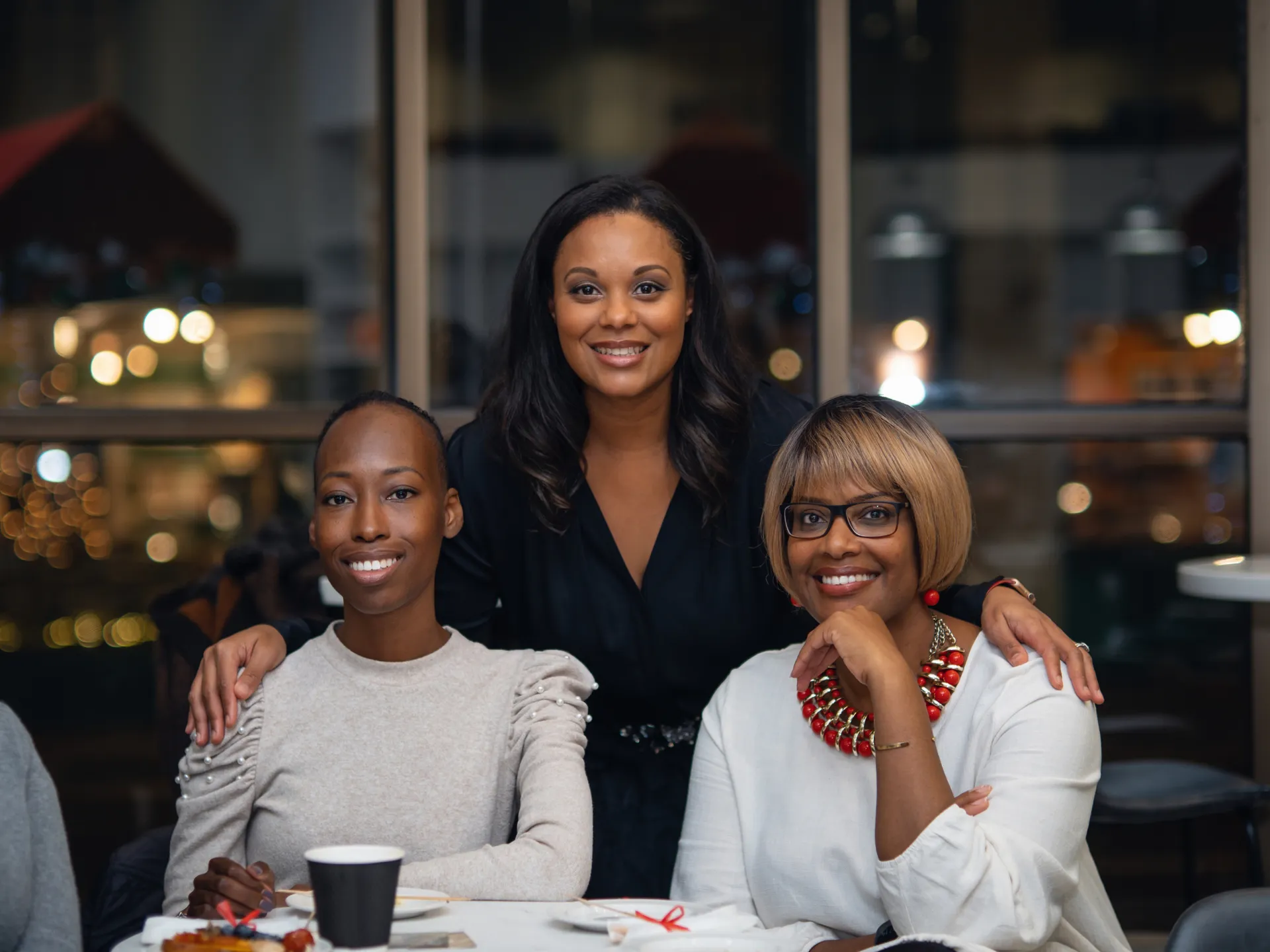 NETWORKING
As a member of The Tribe Advantage, you will have access to virtual and in-person networking sessions with women leaders just like you. Build your network, solve challenges, find partnerships, and get support. 
EXPERT INSPIRATION
Learn from the best in the business to fuel your leadership growth and success. Explore a wide variety of topics as you learn from psychologists, Tedx speakers, neuroscientists, DEI specialists, board & executive leaders, and stylists, just to name a few.
THE WELLNESS LAB
Inside the Tribe Advantage, we are committed to supporting your wellness journey. Enjoy LIVE Q&A with our certified wellness faculty with real answers about your most pressing wellness & self-care needs.
TOOLS & TEMPLATES
Over the last 20 years, Leah has developed resources in many areas of leadership. Whether you need a framework for mapping out a communication plan, performance management tools, or personal exercises and assessments to help you discover your strengths, value, or brand, Leah has you covered.
. 
LEARNING PORTAL
Get access to our exclusive resource portal. Elevate your leadership skills and gain fresh insights from Leah & top experts in the field. Explore a curated collection of videos covering diverse leadership topics, tailor-made to empower your growth. You'll also get access to any new content that we add to the program.
Module 1
It's the stories that we tell ourselves that shape who are and what we become.
Lead with Confidence - By the end of this module, you will have redefined everything you believe about leadership and confidence and crafted a clear plan for how you will invest in your confidence every day.
MODULE 2
Your brand is a reflection of who you are and who you are becoming.
Lead with Confidence - By the end of this module you will be able to define your leadership brand and seamlessly weave five potent strategies into your daily actions, ensuring you not only talk the talk but truly walk your leadership path with authenticity and impact.
MODULE 3
Your network is a tapestry of connections that can shape your future.
Lead with People - By the end of this module you will design a plan to build or invest in your personal & professional network and be able to clearly identify different strategies for building a diverse and inclusive team.
MODULE 4
Authentic connections with your team foster trust, inclusion, and productivity.  
Lead with People - By the end of this module, you'll have created a plan for connecting with your team have tools to to engage in constructive results-orientated conversations with your colleagues and team.
MODULE 5
Change shapes us, transitions define us, and conflict strengthens us for the journey

.
Lead with Results: By the end of this module, you will have learned and strategies to navigate change, transition, and conflict more effectively.  
MODULE 6
Performance management isn't just a process; it's  leadership in action

.
Lead with Results: This module will empower you with the skills to link strategy to results by effectively managing performance and implementing reward practices so you can lead your team to greater success and satisfaction.  
And just who will be guiding your journey inside The Tribe Advantage?


Hi, I'm Leah


ADVISOR, AUTHOR, SPEAKER, COACH, WIFE, MOM OF TWO TEENS, WALKING AND SHOE LOVER, SERIAL CREATOR OF NEW EXPERIENCES.
First, let me say thank you for getting this far. If you are here you probably know a few things about me, so let me share this.
For several decades, I have helped leaders just like you navigate and shape their leadership journey. I truly believe that women leaders can change the world and when we connect and support each other, we can accelerate our leadership journey and thrive in times of change.
I know committing to a program is a big investment. I've been in your shoes...Struggling to figure it out on my own, searching for the opportunity to show up fully as the leader I felt called to be and, unable to imagine how to carve out time to invest in myself.
As leaders, whether we intend it or not, the words that we say, every action that we make, or don't make, will change lives for better or worse. I believe now more than ever, it's time to lead differently. You shouldn't do it alone. You don't have to do it alone! Together let's do the work, unlock your advantage, and create something special that will change your life and leadership.
We know you're going to love these gifts to help accelerate your leadership.


Let's really fast-track your success!
BONUS 1 --> Access to the Confidence Continuum a short training on how to live and lead with confidence everyday

. 

Bonus 2 --> Access to the bonus resource portal for the Assemble the Tribe Book
Bonus 3 --> Join Leah for these bonus live sessions with leaders and experts from her tribe. 
MOJISOLA A, COMPANY SECRETARY/HEAD OF COMPLIANCE
Getting into the Tribe Advantage was a rare privilege. The expertly crafted masterclasses, and the expert sessions were on point, a breath of fresh air, and what I needed at the right time.
JENNIFER W., EDUCATOR & PROGRAM DESIGNER
I entered the program as a novice leader, unsure of my own professional brand. No longer do I question my abilities and contributions; the Imposter Syndrome doesn't have a stronghold on me anymore!
NONTO M., LEARNING CONSULTANT
Leah is a very knowledgeable and exceptional coach. Her passion for developing and supporting leaders is palpable. I was inspired by the depth and how well thought out and organized the program was.
We take your growth and development seriously and your time in the community will be transformational. 
Here are a few of the ways we help you grow!
✓ Develop a clear understanding of your strengths and values as the foundation for your leadership experience and purpose

✓ Learn the skills to reward & empower your team as a means of achieving better organizational results.
✓ Network with a group of women leaders and develop strategies for building your personal & professional network and how to prioritize Diversity Equity and Inclusion in your leadership

✓ Learn the skills to navigate internal and external conflict, change and transition, and conduct every day leadership conversations

✓ Explore strategies to reward & empower your team as a means of achieving better organizational results.